Greetings Clamfolk, from my favourite house in Nova Scotia! Pennybrook House in West Dublin, Lunenburg County. First off - thanks to everyone who donated to my successful Kickstarter fundraising campaign! Recording of the CD is well underway - in fact I have an EP out now for this upcoming tour (which is also available for purchase here at the
Store
). We'll finish the full CD when I return in September and then I'll be sending everyone their rewards (CDs, panties, t-shirts...)
Tonight, John Muller, Pennybrook and myself are sharing a show at the legendary West Dublin Hall just down the road, and it's our kick-off show for our cross-country tour, aptly named "The Clam It Up and Mull 'Er Over Tour 2015." Tomorrow we head west, with our first non-Maritime show being a wonderful back-yard potluck in Montreal.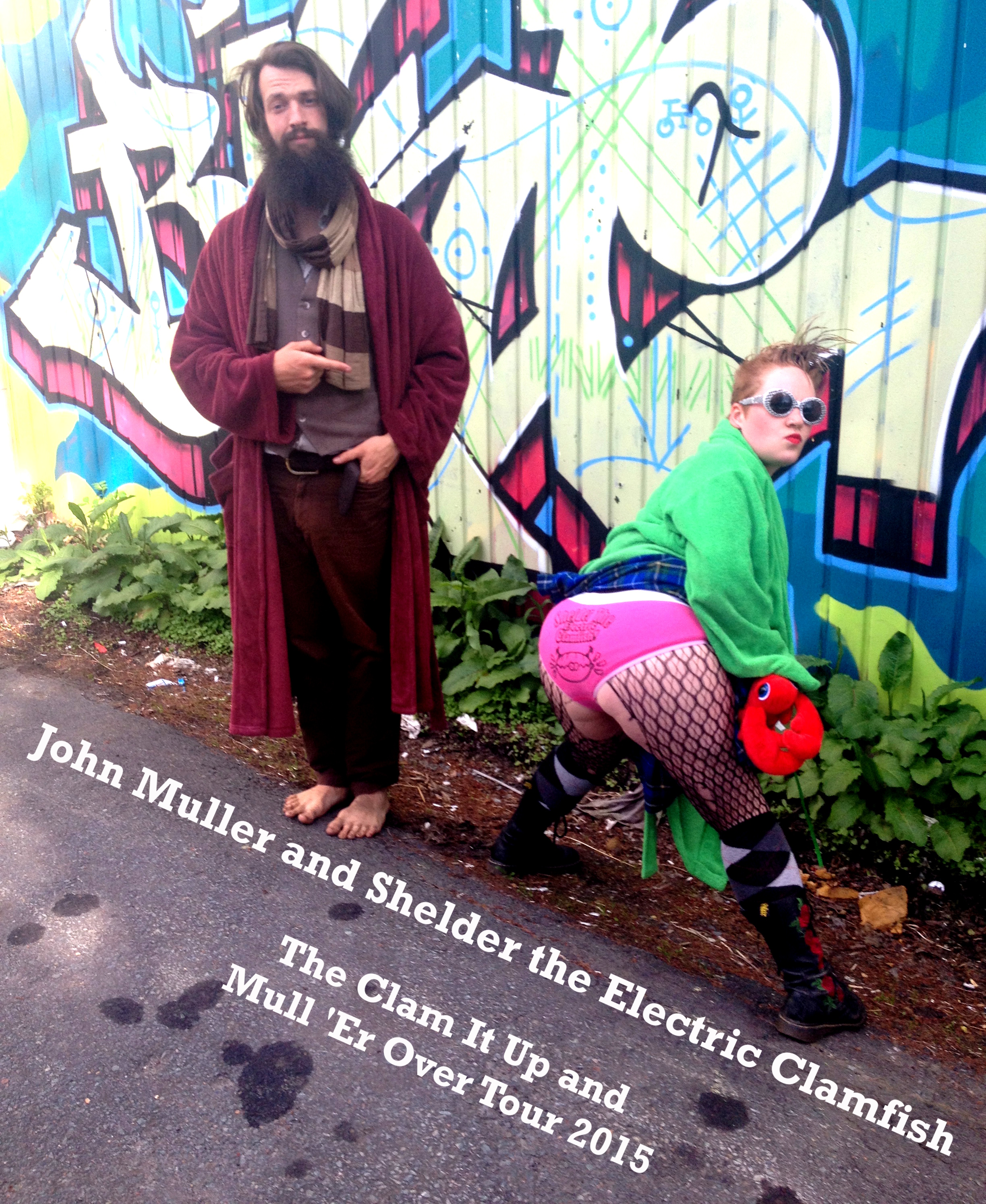 Hoping to catch us along the way? Here are the upcoming dates:
June 27: West Dublin Hall, West Dublin, NS (with Pennybrook)
July 2: Backyard Party, Montreal, QC (with Francesca Daoust)
July 4: Free Times Cafe, Toronto, ON (with Cory Paul Hill)
July 7: My Dog Joe, Hamilton, ON
July 11: Cornerstone Music Cafe, Calgary, AB
July 13: Golden Ears Farm, Chase, BC
July 15: House Concert, Prince George, BC*
July 17-19: Mountains to Dust Music Festival, Broom Forest, BC (John only)
July 24-26: Hootstock Music Festival, Forest Grove, BC*
July 30: House Concert (Point Street House), Victoria, BC
July 31: Mayne Island Community Hall, Mayne Island, BC (with Compassion Gorilla)*
August 5: Treehouse Cafe, Salt Spring Island, BC (with Coddlefish Foxtrotter)*
August 7: Blue Mule Espresso Bar, Nelson, BC (with Compassion Gorilla)*
August 20: The Neighbourhood Bookstore and Cafe, Winnipeg, MB*
August 26th: House Concert, Marathon, ON*
August 27th: Rock Island Lodge, Wawa, ON*
September 13th: Black Street Party, Halifax, NS*

*After our Victoria show, John and I shall be parting ways (John's making his way back East earlier than me), so the return shows are alas without him...but stay tuned as they will most likely include an Argentinian folk musician instead!
Really, the tour actually started off last weekend, at the most wonderful festival - Full Circle Music Festival, right on the Bay of Fundy in a wonderful old barn. I brought my friends Jeff and Patrick up with me to back me up on stage and we played a high-energy afternoon set to a great crowd of barn-dancers! It was also such a thrill to share the stage with other amazing musicians such as
The Barrowdowns
,
Ben Caplan
,
The Modern Grass
and
The Unseen Strangers
(from Toronto). Not to mention...some epic mud-sliding ensued! No pics of that...sorry, it's difficult to bring a camera while mud-sliding. 
See you on the road, my friends!!
-Shelder the Electric Clamfish