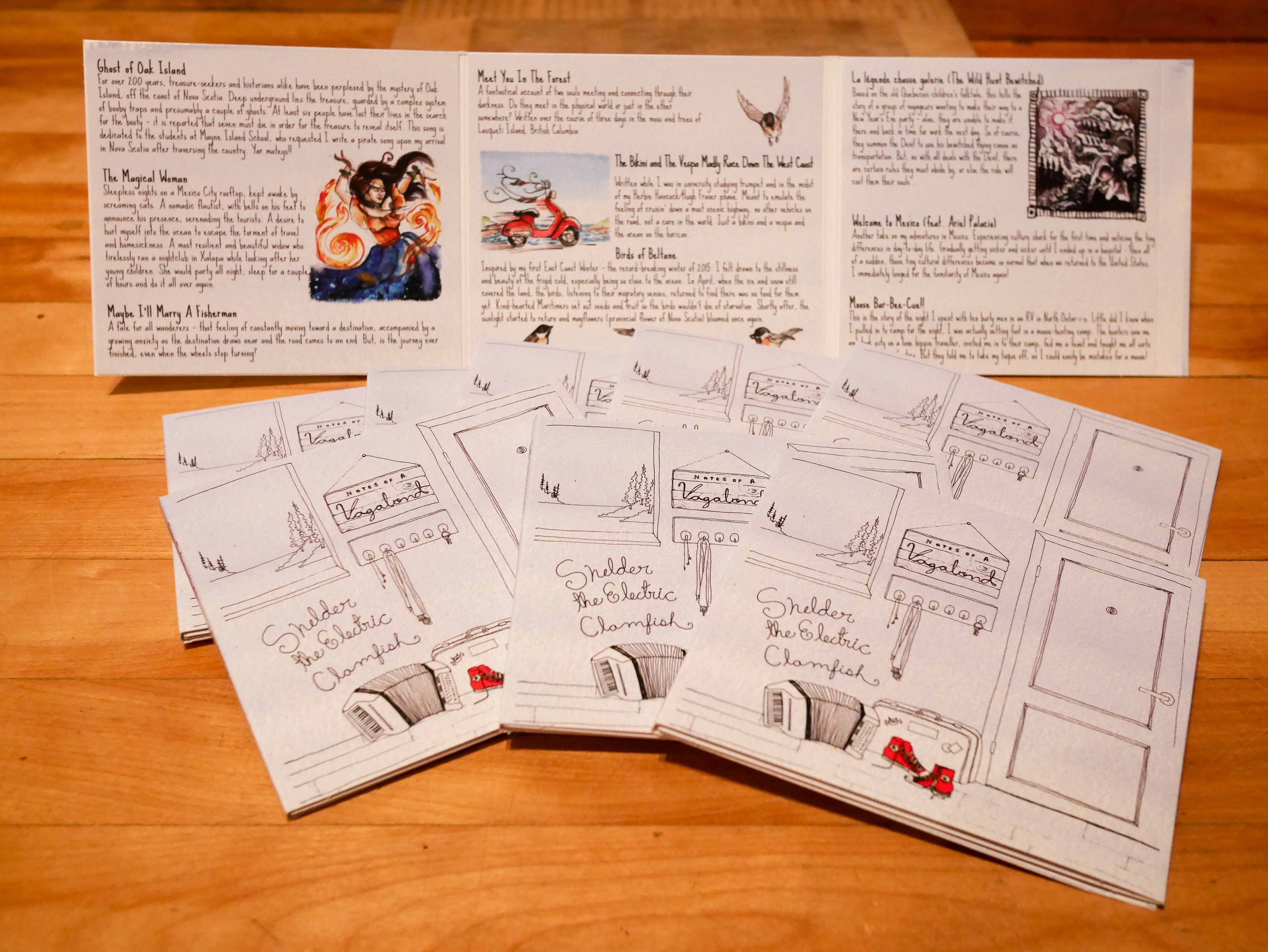 They've arrived folks! I officially have an album now, in my hands that is, but it will be unleashed to the world on April 22nd. You'll be able to find it on iTunes, Amazon, Google Play, Bandcamp, on the music portion of this website and anywhere else online where you can download music. I'll also be playing a few Nova Scotian CD release shows:
April 22nd: (Official Album Release Party) Halifax Music Co-op
May 7th: West Dublin Community Hall
May 21st: Wolfville House Concert
And, although it's not an actual "CD Release Show," I'm playing a show with my good friend John Muller on May 1st at Art Happening Bridgwater, as part of a fun-raiser for AHB, as well as the Bridgewater Interfaith Foodbank, and you can get my CDs there too!
It was an incredible learning experience for me to record this album. Working for the first time with musicians learning my songs, recording live off the floor in separate rooms of an old Nova Scotian haunted house. Learning just how much you can do with technology and just how far (or not) I wanted to go with all those possibilities. As well as arranging and producing, I learned a lot more about recording techniques, mixing and mastering - although I doubt I could do any of these things on my own yet. Regardless, these are the best recordings I have of my music to date, but because of all that I've learned, the next one will be that much better. I suppose that's how it is with any project over the years.
"Notes of a Vagabond" is a journey for the listeners. Across Canada and down to Mexico and back, I sing tales of Nova Scotian pirate legends, French Canadian folk legends, homesickness and culture shock, a host of inspirational characters I've met on my travels, and of course, everyone's favourite Canadian hobby -  moose hunting. There's even a jazz treat thrown in the middle - an instrumental piece titled "The Bikini and The Vespa Madly Race Down The West Coast," which I wrote and performed while in university but was waiting for the right time to actually record. I'm eternally grateful to all the people who helped make this project happen: Jude Pelley (recording and mandolin), Martin Maunder (mixing), Andy Meyers (mastering), Jeff Wheaton (upright bass), Patrick Murphy (drums), Jacques Mindreau (fiddle), Julie Kennedy (fiddle), Ariel Palacio (accordion and guitar), Shannon Nesbitt (cover art) and Shaela Kinting (inside art). And an especially big thank you to all the people who donated to my Kickstarter Fundraiser last year - you'll be getting your autographed albums and panties in the mail very soon!
If you wish to read an album review written by three Mayne Island sheep, click
here.
I quite like the genre "Deep Sea Punk Folk" - it's always been difficult for me to put my music into a category but I find this suits it very nicely.
I'm very excited to share my music with you very soon. And in the meantime, please spread the word!!
Yours,
Shelder the Electric Clamfish